The Bay Area's most dynamic and elite Real Estate Investors Association!
Hear the best speakers, get the best advice. Make a commitment to your future wealth through real estate investing and attend our next meeting. Non-members are welcome to experience our content rich, hype & sales-free, educational programs for new and experienced real estate investors.
December 3rd, 2015: San Jose Sharks Former President & CEO Greg Jamison
Winning, Competition and Integrity

The Domain Hotel, Sunnyvale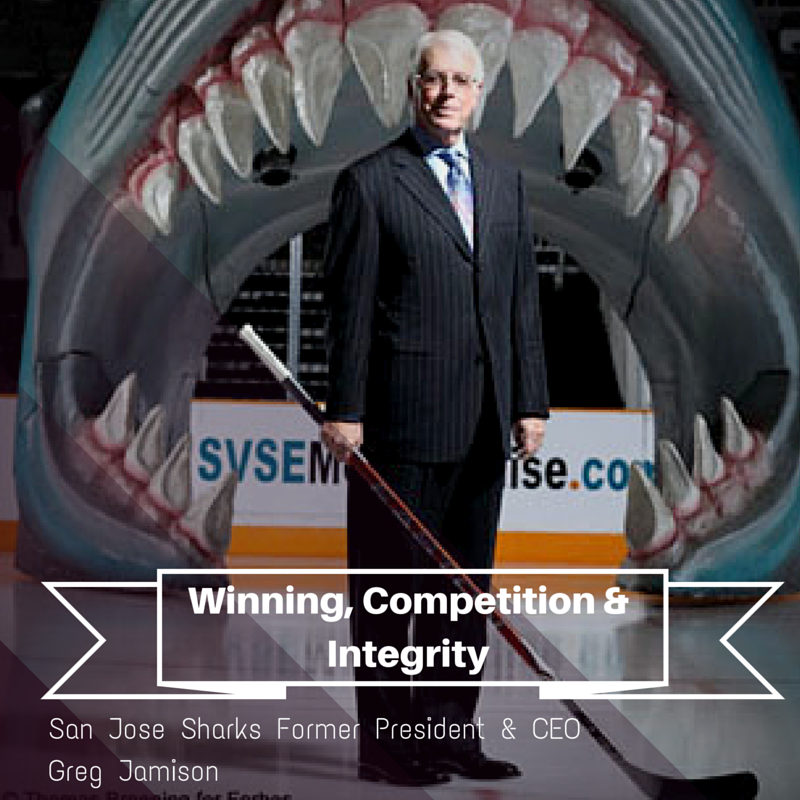 He's graced the cover of Forbes. He's worked in executive roles for the Dallas Mavericks and the Indiana Pacers. In 1996, he was named president of the San Jose Sharks. He went on to successfully guide the purchase of the San Jose Sharks following the 2001-2002 season – and then served as CEO and President of the organization until 2010. Until October 2011, Greg Jamison served as the Sharks' governor at meetings of the National Hockey League's Board of Governors. Greg, as CEO of the San Jose Sharks, was also responsible for the management of the HP Pavillion that consistently was ranked among the top five North American venues for nonsporting-related events as well as having high annual attendance for the Sharks games.
A proven expert at stabilizing, growing and making ventures competitive, Greg Jamison devoted his career to the art of competing to win – with integrity. This December, the former CEO and President of the Sharks is joining us at SJREI to deliver a powerful and moving motivational on what it means to compete, to win and to stay true to oneself when the stakes are always changing.
It takes confidence, determination, teamwork, grace under pressure and the strength to overcome fear to succeed in sports – and in any venture. Regardless of the business you are in, you will take away actionable wisdom from the experiences Jamison will be sharing with us on December 3rd.
Pay It Forward This Holiday Season
December 3rd, The Domain Hotel, Sunnyvale
"I hope the fruits of my labor are ripe for many generations to come." Donovan Nichols
Imagine a child faced with the possibility of never being able to smile. Now, imagine being able to do something about it. This December, you can.
Join SJREI this December: make a real, lasting impact in the lives of children as we take our blessings and share them with others…On December 3rd, SJREI is encouraging our community to open our hearts and come together to support a truly deserving group: Rotaplast Guatemala Medical Mission, of the San Jose Rotary. Rotaplast brings much needed surgery on congenital anomalies (such as cleft lip and palate) to poor infants and children in 3rd world countries.
You can help make these medical missions a reality with a donation to Rotaplast of the San Jose Rotary. At the meeting this December, we will be reviewing the wonderful, life-changing work this organization does – and collecting donations to support it. We challenge our entire community of investors and business executives to come together and make change happen in the lives of children who so desperately need it.
Rotaplast of the San Jose Rotary is committed to helping children and families across the world who have been impacted by the burden of cleft lips and palates, burn scarring and other deformities. Every year, Rotaplast with the San Jose Rotary sends highly qualified medical teams on medical missions that provide free reconstructive surgeries and treatments for the care of these deserving children. Rotaplast and the San Jose Rotary work to better the lives of children and their families.
To donate to the upcoming Rotaplast Guatemala Medical Mission, please make checks payable to:
San Jose Rotary Foundation (For Rotaplast) and send it to:
Rotary Club of San Jose, 1690 Senter Road, San Jose, CA 95112.
Be an SJREI Insider
Join our amazing, inspirational community of Silicon Valley's most elite investors. Get inside tips, event admissions, and exclusive content just for you. An opportunity not to miss.
JumpStart Your Investing Career
TBA: JumpStart Real Estate Investing Basics One Day Workshop
You can spend thousands of dollars and hundreds of hours and still have gaps in your knowledge about real estate investing. For a solid grounding in the fundamentals look no further than SJREI Association's JumpStart program. We bring you a solid curriculum designed both for the novice real estate investor and for investors ready to tune-up on the latest legal, financial, and practical knowledge necessary for successful investing.
Our Clients Say
I attended my first meeting last week with Garrett Sutton as the guest speaker. I didn't know what to expect. The drive from Hercules took me 2 hours. I've got to let you know that it was worth it. The meeting, atmosphere, people attending, and most importantly the guest speaker surpassed my expectations! Everything was perfect! The dinner was delicious. I learned some additional information on asset protection that I didn't know. Attending the meetings will become a regular event for me.

Realtor and Investor Coldwell Banker — Downtown San Mateo Dear Geraldine, As a real estate professional and investor, I have found the SJREI Club to be a phenomenal resource.  It is clear that your focus is to truly educate your members and provide us with useful and timely information and tools that enable us to stay on top of the different markets and make wise investment choices.  I really appreciate that your club is so focused on education rather than vendors selling their 'wares'.  You clearly are very selective with whom you elect to speak at the club which is truly invaluable to us. In addition to the educational component, the dinner meetings are also very fun!  I enjoy the networking time during dinner and have met some amazing people who have become not just colleagues and business contacts, but close friends as well. I've been on a few of the real estate tours and have found them to be extremely educational as well.  The rental properties that I have purchased while on those tours have proven to be wise and lucrative investment choices. Thank you so much for providing us with so many amazing and educational opportunities.

Geraldine, just want you to know how much I appreciate your ethics, business savvy, willingness to help and YOU!

Dear Geraldine, Thank you for fast becoming one of my favorite associations to be involved with. Since I've now been at this for 20 years, I know a great investment club when I see one. Your's is nearing the top of the list for the simple reason of why your club exists. It should be obvious to every member that you care very much about their success and education. As an investor/educator, I can pick up very quickly why a club exists. Sometimes it's to make the owner/promoter money; sometimes it exists to provide a service. You have chosen wisely and will always be able to attract people of value to your club. Sincerely, Bruce Norris

President, The Norris Group

I realized the benefits of networking when I joined SJREI approximately 6 years ago.  With the help of Geraldine Barry and SJREI I have been able to increase my business significantly.  The membership and education provided by SJREI is first class.  I have also had the opportunity to be a part of some of the educational events.  I am continuously recommending SJREI to my real estate investor clients.  SJREI has definitely changed my life.

Richard Smith

The reason that I love SJREI is that they bring speakers and educators who are actually working in the business and doing deals.  They are not bringing you speakers who make their money selling books or products(like other clubs),  instead they bring you people who are active in the real estate investment business giving you tips and strategies  to succeed in today's changing market

Investor, Tim Manke

SJREI is a great venue for new investors and seasoned investors, as well.  The quality of the education provided is top notch.  The speakers have diverse backgrounds and are experts in their fields.  In addition to the presentations, I find the discussion among the members to be incredibly enlightening.  There are so many ways to make money in real estate and SJREI exposes you to practically all of them.  I have repeatedly recommended SJREI to my clients and colleagues who own or want to own real estate.

Nancy Chillag

I recently attending SJREI's Women in Real Estate event and found the presenters to be very experienced, hands-on successful investors in their relative fields, and very willing to share their successes and failures openly.  The event was very well organized, offered a wealth of information while allowing a lot of time for networking and questions.  Great job Geraldine for all of the wonderful events that you put together!

Caroline Hegarty

At the height of the downturn, many people thought numerous real estate clubs would fold. Geraldine Barry and the team at SJREI defied the odds and opened more locations. It goes to show her and her team's ongoing commitment to value, quality, content, and networking has really paid off in a big way.

VP of the Norris Group

Back in 2005 when housing prices were going up $100k in 6 months in our area, buyers were passionate about the future home equity growth and willing to engage in bidding wars, fearing that it would be even more expensive to buy in the future. However, one group was predicting the real estate market would crash soon and advised people to sell their real estate properties in AZ, CA, FL, and more. That group was SJREI.  My TV guest, Geraldine Barry, President of the SJREI, sold all of her investment properties in CA as well as her primary residence.   In retrospect, that was a very smart move as that was the peak of the housing market.  This is the kind of winning information that SJREI provides.  I wish I had taken action then.

It is not unexpected that SJREI would be the winning contender for this honor. SJREI and their leadership have built an investor association model that places the success of members first.  This is not lost on these clients who in turn have rewarded founder Geraldine Barry with a growing membership when many other associations are just trying to survive.

Publisher Personal Real Estate Investor Magazine

Congratulations to Geraldine, founder of San Jose Real Estate Investors Association, for winning the National REIA annual award for Excellence for 2011.  This highly prestigious award is given to the REIA that demonstrates excellence in all areas of operation, from education to communication to community service. SJREI is the premiere Bay area investor association and caters to beginning and experienced investors alike.   I highly recommend this association for all level investors.

President of Central Florida Real Estate Investors

I have attended a number of "real estate educational events" over the years, some of which leave a lot to be desired, but I can say without reservation that SJREI is the real deal! They simply educate and connect investors. I have gotten into the game because of the information I have gained here. I really enjoy being a part of this organization because of the helpful relationships I have developed and the success that I have attained. I am not only an agent, but an investor now, thanks to SJREI!

SJREI Association Member & JumpStart Attendee

I attended SJREI's JumpStart program not knowing really what to expect, it was helpful, practical, and provided me with a lot of relevant information and contacts to start investing. I now attend all the meeting's and really enjoy the content, and the relationships that I am developing there. Plus, these people are a lot of fun.

Real Estate Structured Sales & JumpStart Attendee

Geraldine and her organization have helped me immensely in my journey through Real Estate Investing. Being a part of SJREI has opened me up to so many networks of amazing people who have been there for me and helped me grow. SJREI has wonderful, knowledgeable speakers come to the meetings every month and I gain so much from being able to chat with them afterwards and speak to them in person with any questions that I might have. This organization is all about people getting together and being effective, and I really appreciate that! I feel like I'm part of something great! I attended the Jumpstart Program in July 2012 and it was just fantastic. A day full of learning about the ins and outs of Real Estate Investing, what to look out for, how to make the best deals, and how to protect yourself. I can't wait for their next Jumpstart Program in September!

Member of SJREI Association & JumpStart Attendee

Thank you for continuing to provide a forum for rookie real estate investors to get educated and network.  As a result over the past 11 years I have able to accumulate 9 houses in Fresno and Pittsburg area.  It is not the hundred of houses some speakers have, but because most are paid off, it's enough to buffer the engineering day time job. Again, thank you for providing major parts of the puzzle

Real Estate Investor & SJREI Attendee
SJREI wins 2011 National REIA Award of Excellence
Leading real estate investor community,SJREI Association,won a highly prestigious award-the National REIA Annual award for Excellence for 2011 for best overall Real Estate investors Association. he National REIA awards for excellence aim to encourage recognize and promote excellence and top performers in the real estate investor community service where among the criteria for success in the National REIA awards for Excellence.
From The Blog